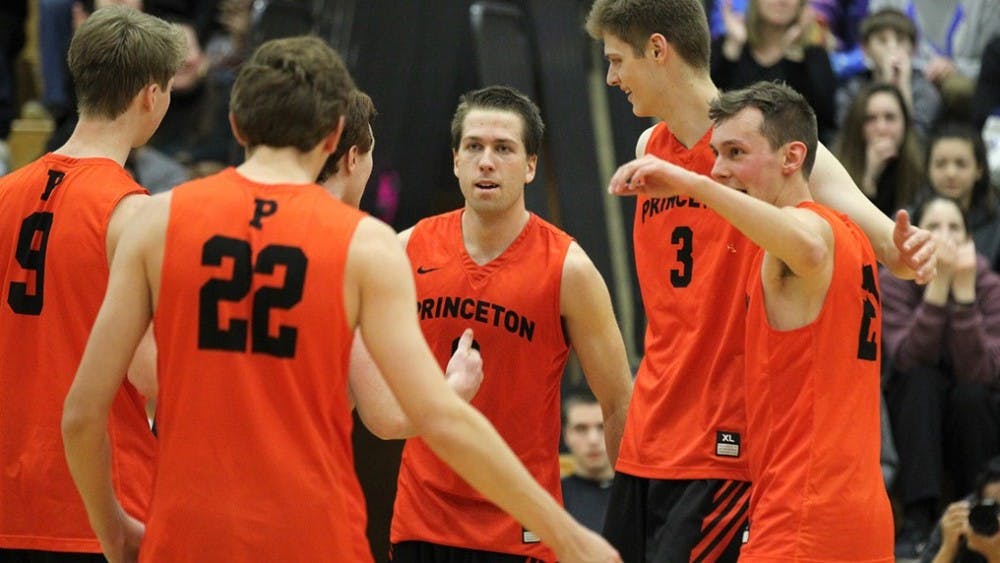 The men's volleyball team entered the weekend with one main goal: secure a position in the EIVA playoffs. They did exactly that. The Tigers swept Harvard to earn their fifth EIVA postseason spot in the last six years. The Tigers, currently fourth in the EIVA, will play first seed Penn State in the semifinals.
With their postseason hopes on the line, the Tigers came out ready to defend home court against the Crimson. Striking the first blow, the Princeton team earned the first set by a comfortable margin, 25-20. The Crimson would rally in the second, but the Tigers had just enough to hold off the Crimson, narrowly winning 27-25. Powered by one of their most efficient performances this season, the Princeton team would cruise through the third set to not only complete a season sweep of Harvard, but also, more importantly, to secure a playoff position.
In their final home game of the season, the Tigers faced Sacred Heart. The Pioneers had shown themselves to be dangerous opponents early in the season by sweeping Penn State. Prior to the game, the Tigers honored their two graduating seniors, Jonah May and Kurt Thiemann. The pair have played a crucial role in the Tigers' 8-6 EIVA record and return to the postseason.
Sacred Heart desperately needed the win to clinch a playoff position, and their effort translated into results on the court.
Despite an impressive performance the previous evening, the Tigers never found their rhythm against the Pioneers, hitting at a percentage of .062 of shots compared to Sacred Heart's .431 hitting percentage. While the Tigers had some runs, they were too far and in between to secure the win. The Pioneers would sweep the Tigers 3-0 and earn the third spot in the EIVA ahead of the Tigers on head-to-heads.
The Tigers will have to put the loss behind them as they prepare to face nationally ranked Penn State. While the Princeton squad has yet to beat the Lions in their two EIVA match-ups this season both games proved to be five-set thrillers. Although Penn State managed to edge out the Tigers both times, the young team has shown their growth this season and their potential for upsetting tough opponents.
Perhaps the third time will be the charm for this Tigers squad as they head into the EIVA semifinals this coming Thursday, April 20.