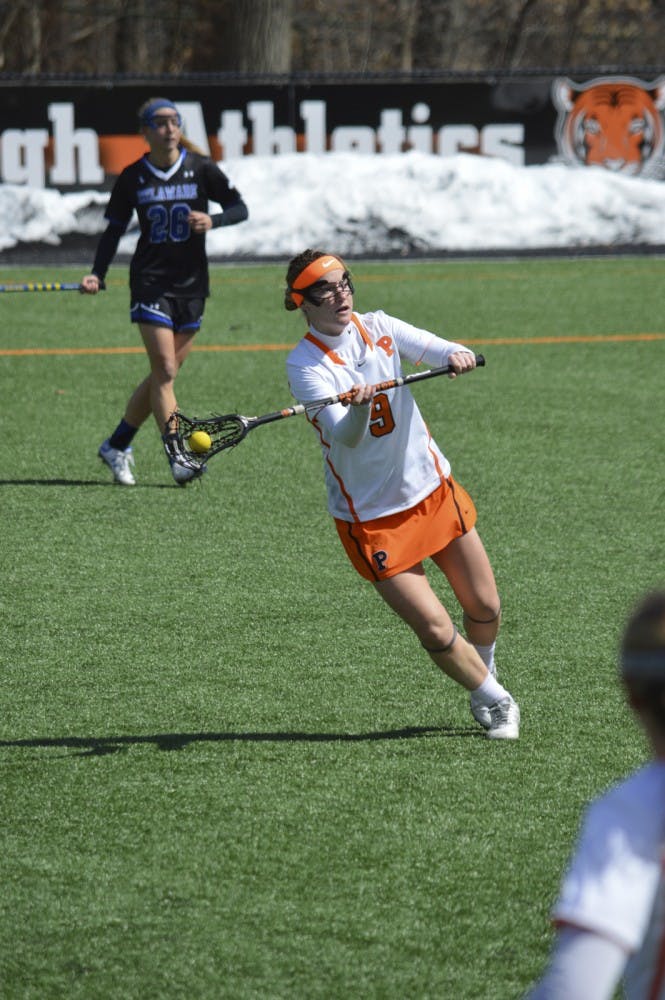 Princeton women's lacrosse topped perennial league rival Yale 7-5 in New Haven over the weekend to remain undefeated in the Ivy League. It was a great win for the Tigers, their third league win of the season, as they approach the bulk of their in-league games.
It was a great defensive win for the Tigers (8-2 overall, 3-0 Ivy League) as sophomore goalie Ellie DeGarmo had nine saves, playing a crucial role in holding the Bulldogs down. Their performance kept the Bulldogs (6-6, 1-3) to well under their average — the women from Yale normally put up 8.75 goals per game in league play. Princeton went up 4-1 in the earlier stages of the game before Yale started a run to narrow the gap. The teams went into halftime with a score of 6-4. The Tigers held on for the win, limiting Yale to only four shots on goal in the second half. While the Bulldogs would score early on in the half to decrease the deficit to one, it would be the only goal the Tigers would give up.
Interestingly, a look at the box score might suggest that the Bulldogs were in control for much of the game. Yale performed better than Princeton in multiple statistical categories, outshooting Princeton, winning more groundballs and taking 10 of 14 faceoffs.
As the team continues to roll, two of its stars were recognized in the Inside Lacrosse All-American list. Senior midfielder Erin Silfer was named a second-team All-American midfielder after putting up 32 points in nine games. Junior defender Liz Bennantine was an honorable mention for the list, as her tenacious defense and number of turnovers forced caught the eyes of the committee.
Princeton will travel to face No. 1 Maryland on Wednesday for a 7 p.m. game in what is sure to be a thrilling showdown. As of March 30, the Terrapins have a perfect 12-0 record.