In my opinion, the best part of any awards show is the red carpet. It's fun to ooh and ah over gorgeous designer gowns that you could only dream of affording. It's perhaps even more fun to gasp in horror (or at least crinkle your nose in disgust) as someone proudly strolls past the cameras in a ghastly dress that will haunt their fashion reputation for the near future. This year's Emmys did not disappoint in either category. We saw sheer done right...and done so wrong. We saw sparkles and sleek suits, as well as wildly unflattering shapes. Read on to see the best and worst of the 2013 Emmy red carpet!
BEST DRESSED
1. Heidi Klum
Heidi Klum sparkles in this deep red Versace gown. The dramatic neckline makes it more than just another tight, glittery dress.
2. Kerry Washington
3. Kaley Cuoco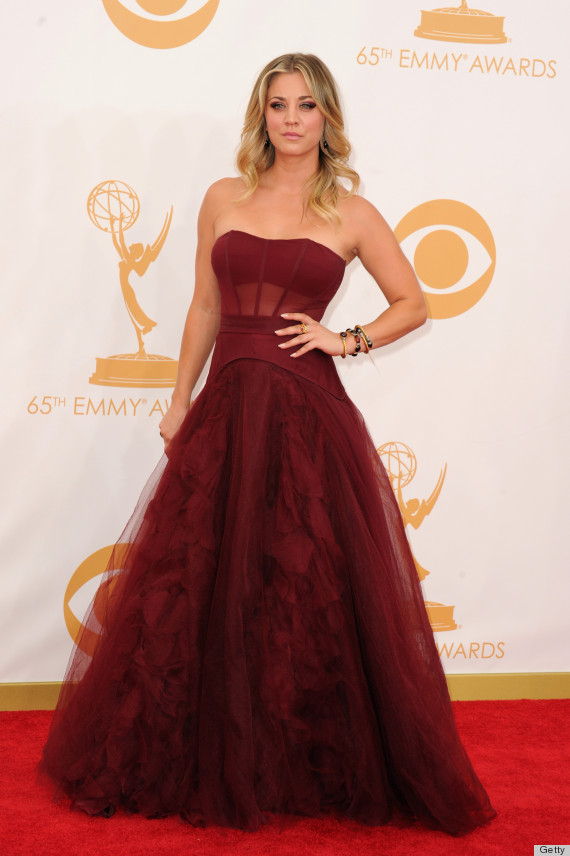 With just a hint of sheer in her Vera Wang dress, Kaley Cuoco pulls off va va voom sexiness--even in a long dress with a full skirt.
4. Jane Lynch
We rarely see a woman in a suit on the red carpet, but Jane Lynch is classy and sophisticated inBadgley Mischka.
5. Lena Headey
The "Game of Thrones" actress was daring in this see-through dress by Alessandra Rich. Her simple makeup and lack of jewelry complement an otherwise more complex look.
WORST DRESSED
1. Amy Poehler
The black Basler dress does nothing for comedian Amy Poehler's figure. The weird, feather tufts at her hips add extra weight to the lower half of her torso.
2. Kate Mara
The stripes on this J. Mendel dress make this thin "House of Cards" star appear wide and bulky.
3. Anna Faris
Anna Faris glows like a highlighter, or perhaps a very bright banana, in aMonique Lhuillier dress. The jarring yellow and the lizard casually crawling up her back make it just...too much.
4. Julianne Hough
5. Carrie Underwood
While some critics have complimented Underwood's Romona Keveza purple gown, I think it more closely resembles a Macy's prom dress. Would she look smashing on the dance floor at a high school gym? Duh. But on the red carpet? I'll pass.