No. 20 Princeton starts 6-0, faces No. 6 WVU in epic weekend matchup
| Sep 13, 2017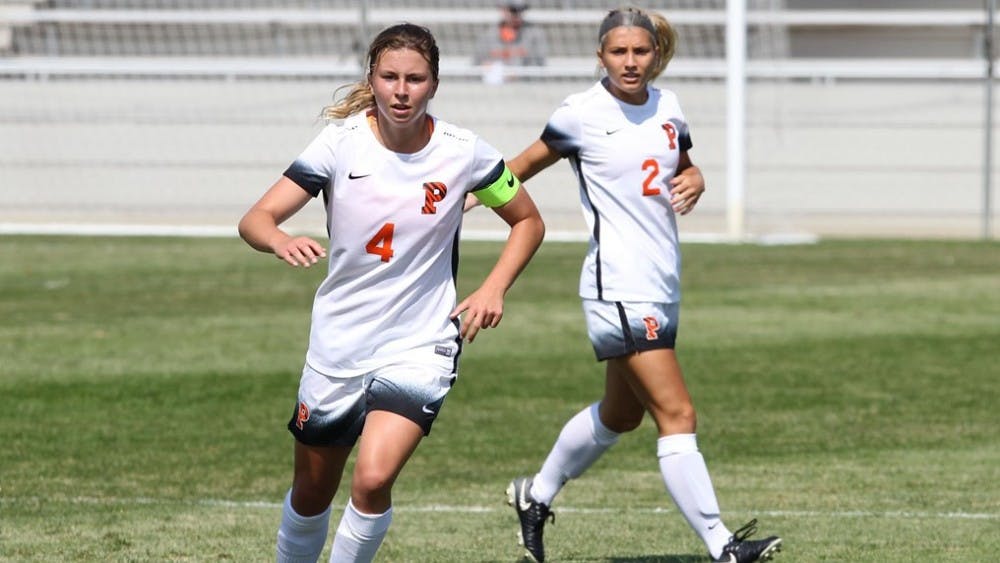 The Princeton women's soccer team is currently 6-0, having conceded only one goal, and has been ranked 20th nationally in the United Soccer Coaches Poll, the best record Princeton has held since 2004. The Tigers faced off against Rider and New Hampshire last week, winning both 2-0 and 3-1, respectively. Sophomore Courtney O'Brien scored twice in both games to help the Tigers continue their undefeated streak. In the matchup against New Hampshire, rookie Carolyne Davidson scored off a pass from senior captain Vanessa Gregoire. But this record has been very much a team effort; six different players have scored so far this season, and all the class years are represented. The Tigers have depth on the team, allowing them to play freely without being dependent on one player. This could definitely help later in the season and the postseason when injuries are more frequent.
It would be wrong to neglect the incredible defensive performance that the Tigers have shown, having conceded just one goal in a total of 540 minutes. This is not just stellar goalkeeping, but an overall organized and efficient defensive effort, something that will be crucial in the next two games to come against top 10 opponents.
Looking forward to this weekend's matchup, the Tigers will face No. 6 West Virginia, which will be quite the test. West Virginia leads Princeton 2-1 overall but having played few games against each other, it will be hard to predict a score line for the game. The Mountaineers are coming off a win against Richmond and are currently 5-2 overall. They certainly have more experience facing nationally ranked teams than Princeton, having beaten then-No. 1 Penn State, but they will have to travel to Princeton to face the Tigers on home turf. The game is at 4 p.m. on Friday, Sept. 15th and will be broadcast on ESPNU, so get out and support your Tigers!
Then, it's a quick turnaround for the Tigers this weekend as Delaware comes to Princeton's Roberts Stadium on Sunday, Sept. 17th at 4p.m. The Blue Hens were carrying a four game win streak until UPenn put an end to the party with its first minute goal, which proved to be enough to take a slim single goal win. Delaware will be hungry to get back to winning this weekend when it faces Princeton, but here is to hoping that the Tigers can maintain their perfect start, especially as conference play begins next weekend.