Women's fencing takes fourth in NCAA tournament, Van Brummen wins épée title
| Mar 30, 2017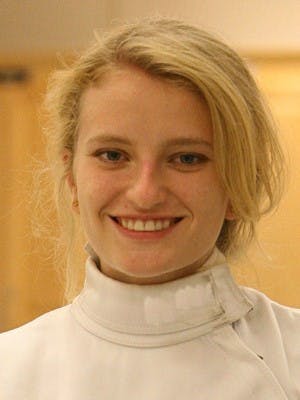 The Princeton women's fencing team entered the 2017 NCAA Championship last weekend with the best track record of any of the competitors over the last six championships, having finished in the top four in each one.
Coming off of the recent Ivy League Championship, the Tigers were in good shape to repeat this positive trend. They were led by seniors Katharine Holmes, a summer 2016 Olympian, and Anna Van Brummen. Holmes went 18-0 in the round-robin at the Ivy League Championship, winning her final bout against Columbia to clinch the title for Princeton in a winner-take-all final match. Van Brummen had a similarly strong showing, going 17-1 and becoming the first Princeton woman to earn All-Ivy League honors four times.
On the first day of the NCAA Championships, Holmes and Van Brummen had a 25-5 record combined. In their head-to-head clash, Van Brummen beat Holmes 4-3. They then occupied the two top spots in the épée competition heading into the second day's final two rounds.
Another strong performer on Saturday was freshman Maia Chamberlain, who went 13-2 on the first day in the saber competition to earn the second place in the standings.
The team was ranked No. 4 after the first day, trailing Notre Dame, Ohio State, and Columbia.
On the second day of competition, the Tigers came out strong, especially in the épée competition. Van Brummen became Princeton's first NCAA women's épée champion after defeating Holmes 15-13 in the final. This one-two finish was instrumental in continuing Princeton's streak of being a top-four finisher, bringing it to its fourth-place finish this year. The Tigers ultimately finished behind Notre Dame, Ohio State, and Columbia; Chamberlain also made the semifinal on Sunday in the saber competition.
Heading into the knockout stages, Holmes was the No. 1 seed after going 20-3, while Van Brummen was the No. 3 seed having gone 17-6. Holmes won her semifinal 9-8 in an extra period over Ohio State's Eugenia Falqui, whereas Van Brummen won 15-10 over Notre Dame's Amanda Sirico.
For head coach Zoltan Dudas, the final was impossible to watch. "When teammates are fencing, I'm not even going close."
Van Brummen's title saw her join two other Tigers, saber Eliza Stone '13 and foil Eva Petschnigg '03, as Princeton's only NCAA individual women's fencing champions.
All five of Princeton's qualifiers for the NCAA competition — Holmes, Van Brummen, Chamberlain, senior Ashley Tsue, and sophomore Sage Palmedo — earned All-American honors.
Congratulations to Anna Van Brummen and the women's fencing team on a strong finish to a great year!