8:37 p.m.: The search officially concluded at 8:15 p.m., according to University spokesperson Martin Mbugua.
8:22 p.m.:Five workers were believed to be on the construction site at the time of the collapse and four were immediately accounted for, according to an on-site firefighter with the Pennington fire department. The fifth worker was reached by cell phone an hour and a half after the search began and confirmed to be safe.
The original emergency call reported structure failure with the possibility of entrapment, the Pennington firefighter said.
The search continues, but is in its final stages.
7:32 p.m.: Rescue workers appear to be using thermal imaging equipment, self-contained breathing apparatuses (SCBA) and dogs for sniffing people out, an on-site, off-duty EMT rescue worker who was granted anonymity said. Around 50 rescue workers are reported to be on-site.
The rescue worker said it was unlikely that this many resources would be deployed if authorities did not think someone could be trapped.
6:34 p.m.:"It looks like extrication...this looks like a big collapse," says on-scene firefighter Jon Pace of Montgomery Township volunteer fire department.
6:26 p.m.: Collapse happened at 4:39 p.m., according to Patience Haggin, reporter on scene. New Jersey's Task Force One Urban Search and Rescue (NJ-TF1) is on scene. NJ-TF1 provides "advanced technical search and rescue capabilities to victims trapped or entombed in structurally collapsed buildings," according to its website.
NJ-TF1 and firefighters continue to search for possible trapped workers.Photo credit Patience Haggin.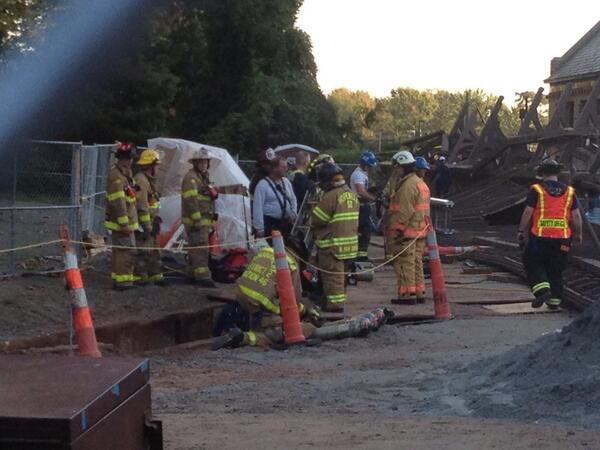 6:08 p.m.: Rescue squad with dog searches collapse site. Photo credit Luc Cohen. Anonymous officer with Princeton Police Department confirms squads are searching to see if anyone is trapped underneath.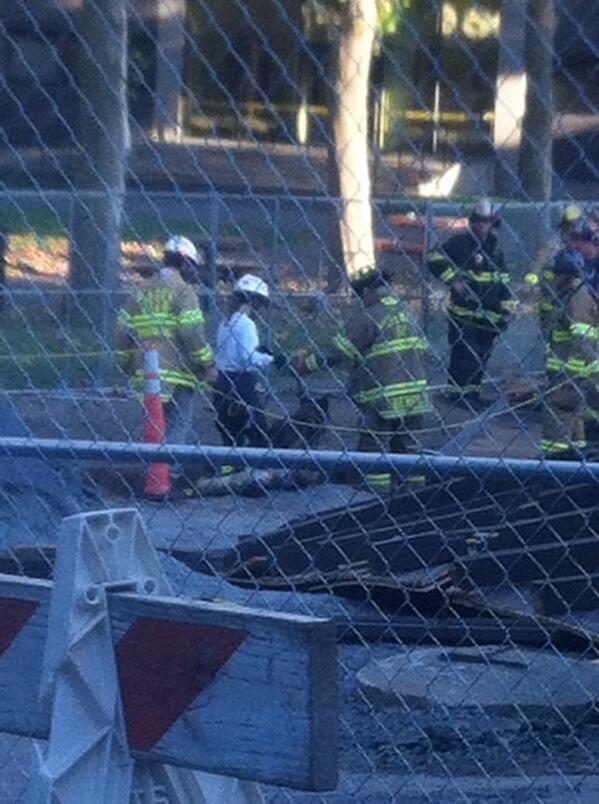 5:56 p.m.: Public Safety issues an email alert to all undergraduate students.
At about4:25 p.m., the overhead canopy at the former Princeton N.J. Transit Train Station tipped over into the track bed. The 200-foot canopy section covered the platform and track area, which has been fenced off due to ongoing construction activity. The station currently in use was relocated last month.

Princeton Fire Department, Princeton Police Department, the University's Department of Public Safety, Princeton First Aid and Rescue (PFARS) and the Mercer County Task Force that investigates structural collapses are all on scene. There are no known injuries at this time.
5:50 p.m.:
Photos from the scene, by staff photographer Austin Lee:
5:40 p.m.: Confirmed collapse of awning at old Dinky station.
The old Dinky station has been under construction as part of the University's plan to build the Arts & Transit Neighborhood, a $330 million development that will include several rehearsal and performance spaces dedicated to arts education on campus. It is scheduled for completion in fall 2017. The old station is to be converted into a restaurant.
Correction: An earlier post stated that New South was evacuated. No building was evacuated during the search. The 'Prince' regrets the error.