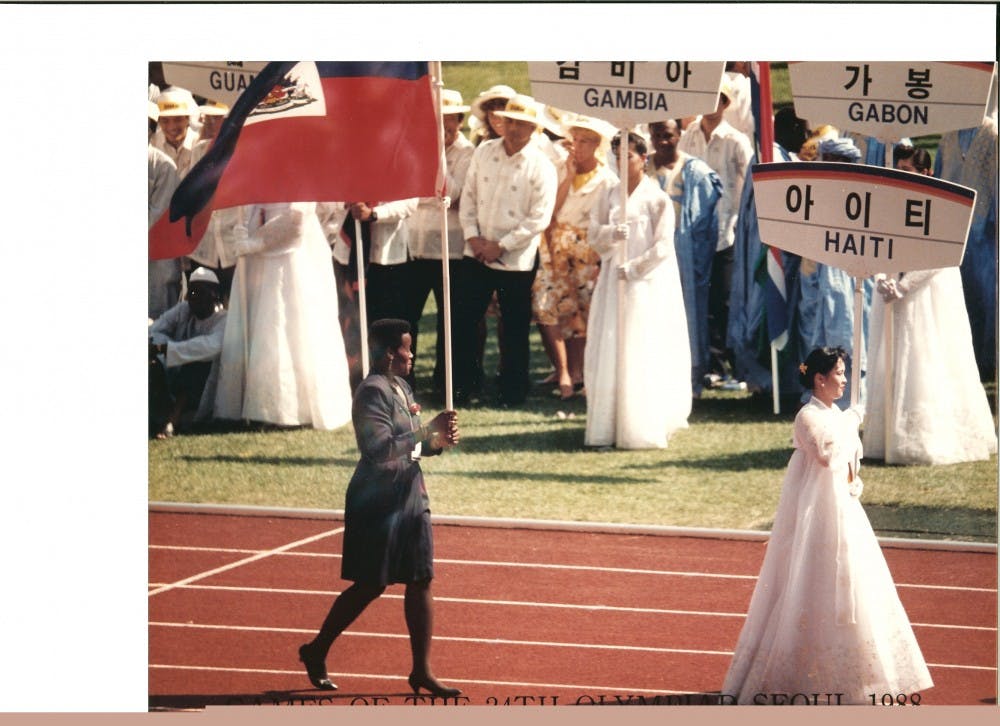 Students and alumni who have represented various nations in several sports shared favorite moments from their University and Olympic experiences.
Olympic Silver Medalist Peter Raymond '68 said that his favorite moment at the University was sitting atop the old Palmer stadium with Don Marsh '68 after a fall workout running the steps "on one of those soft pastel afternoons". At the Olympics, one of his favorite moments was the afternoon before the finals when his team had lightly rowed up and down the course "in perfect quiet and calm."
"As we turned to head back up, suddenly the sound system opened with Joan Baez's The Night They Drove Old Dixie Down. And I watched the world champion single sculler, Argentinian Alberto DeMiddi, come by, gentle as a butterfly and just bursting with potential energy," Raymond said.
Raymond added that other memorable moments from the Olympics included Dick Joyce, his opposite #6 seat in the NZ crew, giving him three NZ shirts; and encounters with the people he met at the Olympic Village.
"[I enjoyed meeting a] short round man from Togo with whom I chatted half an hour, seated on one of the Aztec ruins uncovered in the construction of Mexico's Olympic village, who a few days later appeared on a path with a great smile, 'Peter!' as if we were the world's best friends, and a gift of a dashiki I have to this day," he said.
Fellow American rower Douglas Foy '69 said that one of his favorite moments at the 1968 Games was meeting the weightlifters after watching one of their events. Foy and his teammates watched the middleweight competition from a special athletes-only area in the balcony above the weightlifting arena.
"[The gold medalist] was huge. We [the rowers] were all big; but he was possibly the biggest we'd seen," Foy said.
Foy then met the gold medalist on the bus back to the Olympic Village, only to realize that he could not have been taller than 5'6". All the rowers had to reach down to congratulate him. Foy then realized that unlike with rowing, being short was an advantage in weightlifting, since having to carry the weights for a smaller distance meant that larger weights could be carried.
"It was a funny moment. We all sort of laughed about it," Foy said.
Olympic Bronze Medalist Ross Wales '69 said that some of the highs of his career include the Olympic Games, winning the NCAAchampionship wearing University gear and the AAU swimming championship in 1969.
For Icelandic runner Thorsteinn ThorsteinssonGislason '69, a particularly memorable moment was runningthe Nordic country junior championship and setting a national record a few years prior to the 1972 Games.
Olympic Bronze Medalist Carol Brown '75, one of the first female Olympians and a member of the first female crew team at the University, said that her favorite moment was during a rowing reunion dinner at Jadwin Gymnasium thirty years after she graduated from the University. At the reunion, the Princeton University Rowing Association recognized the first women's crew team and the fact that they didn't have sweatshirts or shirts or anything with "Princeton University Crew" on it to keep. At that dinner, Brown and her teammates were given hooded sweatshirts branded with "Princeton University Rowing" in front of all the rowing alumni.
"It was always 'The men ran the boathouse. The men ran the rowing program.' And for them to recognize that we were the pioneers in what we had contributed to… [making] women totally equal in the Princeton boathouse. It's been the most exciting thing to watch. It's one program, the women have every opportunity that the men do," Brown said.
American fencer Lee Shelley '78 said that his favorite Olympic moment was the Opening Ceremonies of the 1984 Games. The American Team had assembled in the Boxing venue to await their turn to march into the Los Angeles Coliseum. As the host country, the U.S. Team would march in last.
"There were 110,000 people in the stands and John Philip Sousa's 'The Stars and Stripes Forever' was playing over the loudspeaker system. As we marched around the track the cheering from the crowd was so loud that the sound had feel. I could feel the vibration of the crowd cheering. It was so loud that you could scream into the ear of the person next to you and they would not be able to hear you. At that moment I experienced what is meant by 'the roar of the crowd'. I'll never forget it. Ever," Shelley said.
Shelley and his fencing teammate, Michael McCahey, were the last athletes to leave at the end of the Opening Ceremonies. Shelley added that his favorite University athletic experience was winning two consecutive meets during his sophomore year against Harvard and NYU 15-14. Each meet came down to the last bout, which was won by the University'sÉpéeTeam.
"Against NYU I fenced the last bout against their top épéefencer, Hans Wieselgren, who had been on the 1972 Swedish Olympic Fencing Team. I was able to win the bout 5-4 which gave our team the win. I was very proud of those exciting victories," Shelley said.
American shot putter August Wolf '83 said that he enjoyed getting to know fellow athletes, like when he invited a Russian shot putter to live with him for three weeks in California and train with him.
"Going all over the world and meeting people who share common love of this event with me was very special," Wolf said.
Three-time Olympian Lynn Jennings '83 highlighted several memorable moments from her career —earning the bronze medal in the 1992 Games in an American Record time, winning three consecutive world cross country gold medals, running a mile in Norway in 4:24.14, setting an American Record in the 3000m indoors in NYC in Madison Square Garden at the U.S. indoor national championships and setting an American Record for 10,000m of 31:06 on the road in 1990, a record that stood until just last year.
Haitian shot putter Deborah Saint-Phard '87 said that her favorite moment was when she was told that she would be carrying the Haitian flag in the 1988 Games' opening ceremony. Saint-Phard was eating breakfast in Newark with three administrators of the Haitian Olympic team before her flight to the Games in Seoul when they informed her that she would be carrying the flag, because she was one of the strongest people on the Haitian team.
"There is no greater honor on the planet in my view than getting to carry the flag for your country," Saint-Phard said.
Two-time Olympian Danek Nowosielski '91 said that he enjoyed making friends and watching the 5 a.m. sunrise at the University. He added that one morning in particular stood out in his memory.
"I remember the smell of the fruit trees walking back from Guyot early in the morning after an all-nighter working on my thesis or something. I was on my way to the dorm and just having a blue sky with the sun coming up at five in the morning and the smell of all the cherry trees and all the fruit trees that are on campus. And the calm of the campus before everything gets buzzing," he said.
American cyclist Derek Bouchard-Hall '92 said that his favorite moment was arriving at the University as a freshman.
"I had no idea what was coming, and I loved that feeling of fear and excitement," he said.
Bouchard-Hall added that his favorite moment at the Olympics was the opening ceremony.
"I understood what an awesome thing it is that so much of the world comes together for some fun and games. That's life at its best," Bouchard-Hall said.
Swiss swimmer Nathalie Kirkwood '93 said that she enjoyed traveling through Europe with her team, and growing into a well-rounded person by comparing European lifestyles to American lifestyles.
"Here [in the United States] we're always thinking about what the next step is, and what the next level is… There [in Europe] people really think of who they are, and who they want to be and what they want to do," she said.
American rower Danika Holbrook '95 said that she enjoyed sharing the entire Olympic experience with her husband, Ben Holbrook, who also rowed for the United States in the 2004 Games.
"Finishing off senior year with amazing teammates, many of whom are still my closest friends, and winning our fourth consecutive national championship," Holbrook added of her favorite moments at the University.
Two-time Olympian Kevin Cotter '96 said that winning the rowing World Championships in 1999 was particularly memorable.
"I remember… thinking that Princeton had helped me get there— the great coaches, the great roommates I had—and small things like the grit of Outdoor Action, even the senior thesis all-nighters… One of my roommates in college [Matt Lawson '96] even flew to the World Championships that year to cheer me on! That is a memory and connection I won't forget— you have to love Princeton for those great supportive friends that you make. It was cool after the World Championships or the Olympics receiving emails from Tigers that I had not been in touch with for awhile… and having them cheer me on," Cotter said.
Olympic gold medalist Chris Ahrens '98 said that he enjoyed winning rowing nationals in his sophomore and senior years.
"Both years we won in the early afternoon and then got back to Princeton at about 6 p.m. on Saturday night of Reunions. Hard to imagine a better way to celebrate," Ahrens said.
Canadian rower Morgan Crooks '98 said that he enjoyed rowing with his teammates at the University —from the athletes that were in the University's boathouse for his senior year in 1998, six made it to the 2000 Games, according to Crooks.
"As for the Olympics, given that the competition did not go as planned, my favorite moment was the Closing Ceremonies. The pressure was off by then, the event is much less formal than the Opening Ceremonies and the whole night is a great time," Crooks added.
American rower Tom Welsh '99 said that the Opening Ceremonies of the 2000 Games were a one-of-a-kind moment for him.
"Most people watching TV see the athletes walk into the Olympic stadium, but what they don't see is that before that all of the athletes are seated alphabetically by country in the basketball arena next door, watching the events on the jumbotron, waiting for their turn to be called. The world's greatest athletic talent is here in one building, and they are all very excited," Welsh said.
Welsh explained that different sections of the arena stand up and start chanting for their country.However, when someone stood up in front of his section and started chanting "U-S-A, " the entire arena started booing them.
"When it's our turn to exit the arena and head toward the stadium, my rowing teammates and I are walking behind the Dream Team basketball players and in front of the USA sprinters, and we walk into a stadium with over 100,000 people in it. Looking up from the track, a sea of people stretches toward the sky—way more than I've ever seen at a rowing event. We do one lap around the stadium, and right before we turn onto the infield, I pivot toward the stands and give a giant wave to the crowd. Everyone in the stadium just absolutely erupts with thunderous noise like I have never heard before! I turn to my friend and say, 'Did you see that? Did you see how they cheered when I started waving?' and he says, 'Tom, that's because the Australian team just walked into the other end of the stadium!'" Welsh said.
Three-time Olympian Paul Teti '01 said that rowing in the University's boat for the 1998 National Championship as a sophomore was one of his favorite moments. According to Teti, the final race was one of the best races in National Championship history, because both competing crews had Olympians or future Olympians in the boat.
Olympic Silver Medalist Tom Herschmiller '01 said that he really enjoyed the bus rides back to the University, and to Cloister specifically, as the crews all sang Bruce Springsteen after nearly every University boat won Eastern Sprints.
"My favorite moment with Canada was after years of missing the finals, new coach, ridiculous new training program, 2013 Lucerne Switzerland World Cup final, picking my head up after 600 or 700 meters in and realizing we were up by open water— absolutely shocked. We won the World Championships that year but it probably didn't compare to that first realization that we were finally in it," Herschmiller added.
Winter Olympian Andrea Kilbourne-Hill '02 said that her favorite moment of the Olympics was after the final game where her American ice hockey team lost to Canada.
"We had just lost the gold medal and we were all upset. But I scanned the crowd and found my family, who were all looking down at me beaming with pride. It was then that I realized I had lost that one game, but I had won a silver medal at the Olympics," Kilbourne-Hill said.
She added that her favorite University experiences were times spent with her teammates and roommates.
"With my teammates, we had some great traditions that created a special bond between us. With my roommates, we always had fun even during Reading Period. We would have silly dance parties in our dorm to take study breaks," she said.
Olympic Bronze Medalist Maya Lawrence '02 said that she enjoyed handing in her thesis and winning her medal, but her favorite moment was seeing the medal tally after her fencing team won a bronze medal for the United States.
"I remember thinking, one of those points came from us, women's épée, the team nobody ever thought could win a medal. After going though so much, I was extremely proud to know that we had helped the US win overall," she said.
American high jumper Tora Harris '02 said that making the 2004 United States Olympic team was a particularly memorable moment.
"Hearing the judges call your name [after their meeting to decide which athletes will be on the team] is like a combination of something you can't believe, and combination of being exhausted. All of a sudden, people want your autograph and stuff. Just moments before, they weren't too bothered. And now, they want to take your picture," he said.
American fencer Soren Thompson '05 said that he particularly enjoyed his victory to make the Top 8 at the 2004 Games by beating and eliminating an athlete who was a favorite for the gold medal at the time.
"It was a very surprising and rewarding experience to be able to qualify for the Olympics, to have a fun plan and then execute it later," Thompson said.
Olympic Silver Medalist AndréanneMorin '04 said that she particularly enjoys crossing the finish line of an importance race.
"Hearing the bubbles under the shell of the boat and the horn from the finish official… It's such a relief when you get there, your body just can't take another stroke," Morin said.
Olympic Bronze Medalist Steve Coppola '06 said that every time he was on the awards doc was special. Through all his moments with his teammates, however, his tenth reunion stood out.
"Through all that work, I would say, what's special is that even ten years later, there are some lasting bonds… my classmates and I still talk about those days and still joke about the funny things that happened at practice," Coppola said.
American rower Gevvie Stone '07 said that rowing her final at the 2012 Games was incredible.
"I had my best race on the biggest stage! I had been upset to be in the 'B' final, but it had a major perk in that I got to cross the line first! I got to lead the race and to see my competitors behind me, including a few women whom I had never beaten in my rowing career up to that point. If you look carefully at the race video, in the last minute of the race, you can tell that through my grimace, I'm smiling. Despite the pain, I was able to enjoy the experience as it happened!" Stone said.
Puerto Rican swimmer Douglas Lennox '09 said that his favorite moment at the Olympics was walking into the Bird's Nest for the Opening Ceremonies and getting hit with a wave of heat.
"As my sister, Kristina, and I walked from the air conditioned inside of the stadium onto the track to be officially inaugurated as Olympians we were able to spot my family and best friends cheering for us in a crowd of 90,000 people. That was super cool," Lennox added.
Lennox added that the effort his team put together in a dual meet at home against the University of Pennsylvania and Cornell early in the season of his senior year was particularly memorable.
"This was an unusual setting to create such a powerful memory, but we were unexpectedly tested by a team that came ready to rumble in championship suits. We didn't love that decision, but we rose to the occasion as a team and we swam beyond our normal abilities that day. We all look back on that meet with amazement, I think, because we really stepped up in a way that very few teams could have in that moment," Lennox said.
American field hockey midfielder Katie Reinprecht '13 said that her favorite moment of her University experience was winning the National Championship in 2012, with a close second being Sunday Fundays at Cottage.
"My favorite Olympic moment was walking at Opening Ceremonies with the rest of Team USA and mingling with some of the best athletes in the world," Reinprecht added.
American table tennis player Erica Wu '18 said that her favorite moment was making the Olympic team.
"It felt like I was floating. It's kind of hard to remember everything, actually. The last point finished, and all I see are faces running up to me and me running towards them. That's all I really remember," Wu said.
Wu added that she also enjoyed walking in the Opening Ceremony, as it was one of the few times that the entire Olympic team was together. She recalled the chanting of "USA" in the hall, the loud drums and cheering as well as truly recognizing the scale of the sporting event she was participating in.
"It was an emotional night. It was fantastic —everything I'd dreamed of," she said.