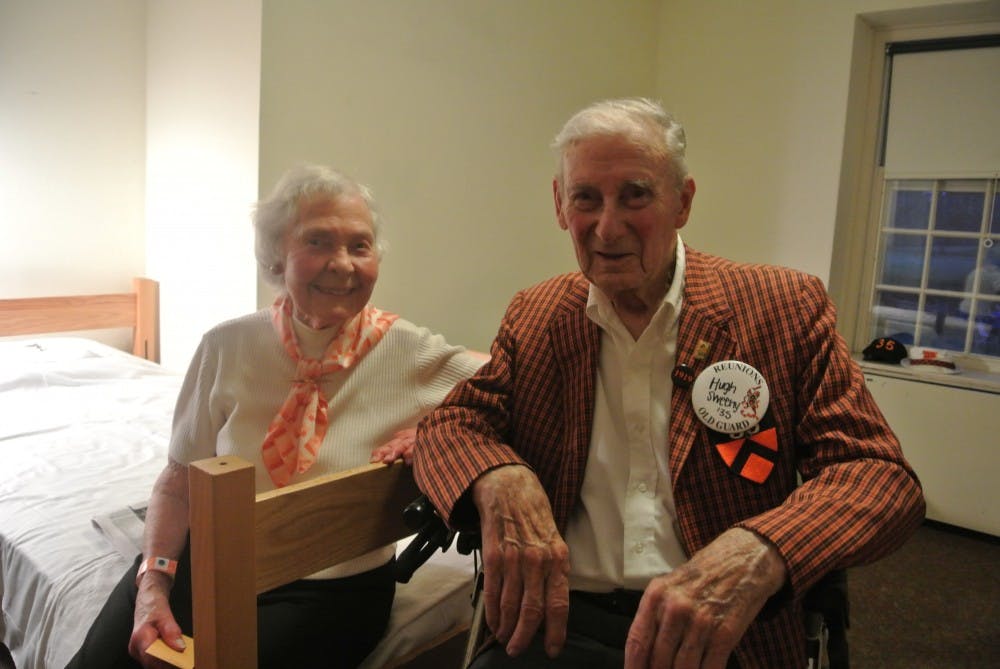 Hugh Sweeny, Jr. '35 traces the day his life was changed back to 1931 when he met a Princeton representative at a high school assembly in Plainsfield, N.J. "It was the middle of the Great Depression. My father had a pay cut. I had no idea of college," Sweeny said.
Now Sweeny, 98, is back at his alma mater on yet another momentous day. He is currently the oldest alumnus attending Reunions and will likely lead the P-radeon Saturdayafternoon. The Reunions tradition mandates that the oldest alumnus or alumna to march in the P-rade will have the honor of holding the Class of 1923 Cane. The leader is not officially decided until the start of the P-rade, according to alumni coordinator Dottie Werner.
Back in 1931, after giving a speech at his high school assembly, Sweeny was approached by a visitor who was at the school to present a gift from the University to commemorate one of the high school's alumni who had earned the highest marks of the freshman class. This visitor was the secretary of Princeton's Alumni Council, who was so impressed by Sweeny's speech that he offered to set up an appointment for Sweeny with the University director of admission. Sweeny said that at the meeting the director began to make arrangements to prepare him for Princeton, "and it was like a done deal."
During his time at the University, Sweeny studied philosophy, economics and politics; at the time, it was common practice to pursue two majors simultaneously, so his experience was slightly unusual in that he studied three topics. His wrote his senior thesis on the National Recovery Administration, a Depression-era piece of legislation that was outlawed by the Supreme Court.
In reflecting on his University years, Sweeny said, "I was very immature," attributing his immaturity to having skipped the third grade.
Sweeny spent most of his time outside of class working for Dining Services to cover his tuition. He noted that the room and board for his first year living at 26 North Edward cost only $78, but he had to rely on loans and scholarships to cover his tuition. Likewise, he did not join an eating club because of financial constraints.
Sweeny was also a reporter for The Daily Princetonian for a short period of time.
"I tried being a reporter for The Daily Princetonian. It didn't work too well," he said. "[The crew team] needed a coxswain, so I steered the boat and tried to write a story on it. It wasn't very good. That was not successful."
Sweeny has been to most of his five-year Reunions, and came back this year because he was told he would most likely be the oldest alumnus in attendance. Many of Sweeny's friends have also come to Reunions to see him lead the P-rade. In recent years, the honor has gone toMalcolm Warnock '25, who died at age 107 last October.
"This tradition of the oldest grad has nothing to do with academics, nothing to do with business or financials or success or scholarship. It's just the accident of living and dying," Sweeny said. "I had a hum-drum life. Princeton changed my life. No question."