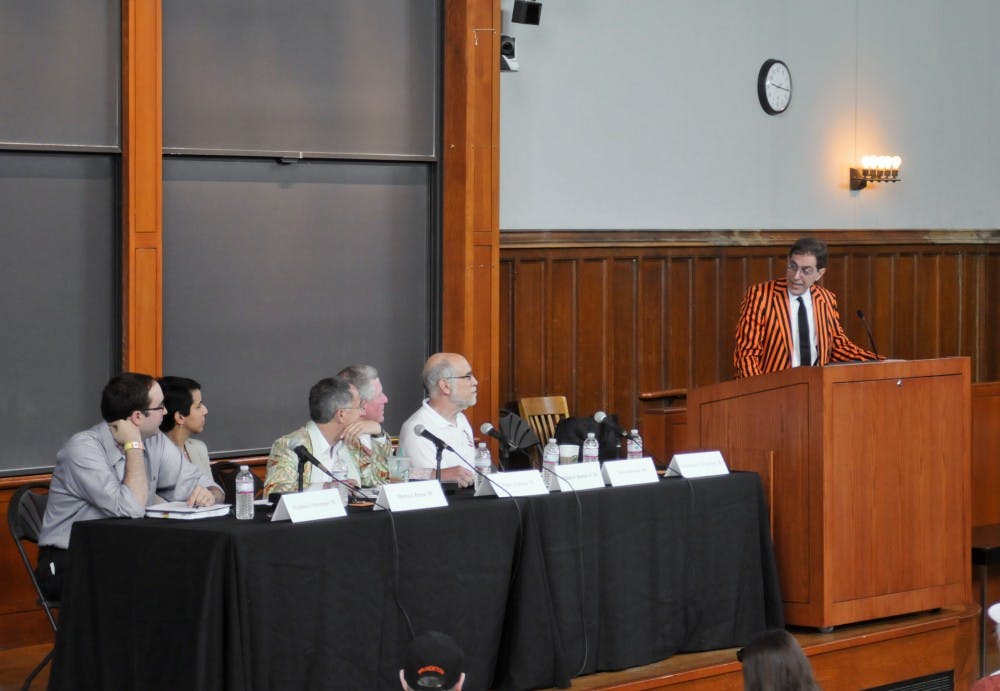 In an alumni-faculty forumFridaymorning, University Provost and President-elect Christopher Eisgruber '83 moderated a panel discussion on the current state of the judicial confirmation process.
Joining Eisgruber were U.S. District Court Senior Judge William Barbour, Jr. '63, Duke University'sCharles S. Murphy Professor of Law and Public Policy StudiesChris Schroeder '68, United States Attorney for the District of New Jersey
Paul Fishman '78
, Associate Judge of the Superior Court of the District of Columbia Marisa Demeo '88 and Wiley Rein LLP associate Stephen Obermeier '03.
"Not all judicial confirmation proceedings are created equal,"Eisgruber said to open the forum and frame the discussion.
"When most people think about judicial confirmation proceedings, they think about the hearings on Supreme Court justices, which are the most prominent and least common," he said.
He further explained that most judicial confirmation proceedings are resolved in a manner very different from that of the Supreme Court.
"Judges' values, their jurisprudence, their philosophies are going to matter in a different way for a Supreme Court nomination than they will for other courts," Eisgruber noted.
Eisgruber explained the way in which the confirmation process is "most broken" right now is with regard to what is happening in circuit, district and other federal courts.
"When we think about judicial appointments, we should think not only about confirmation but about nomination," he said.
While the confirmation process has changed and become more challenging to tackle, Eisgruber said that the nomination process is just as important. The confirmation process tends to be more public and open, which is the reason for much more focus.
"Vacancies in the federal system … run about 40 and 55 a year,"Schroeder said."The problem is, the process itself is making it increasingly difficult even to replenish the seats that become vacant each year."
At the start of the Obama administration, the number of vacancies in the federal system was at 55. By the end of Obama's first term, there were 81 vacancies.
"The process is becoming increasingly politicized," Schroeder added.
Schroeder explained that none of the "process paralysis" hitherto has caused any major flaws for people ultimately getting on the federal bench. "If you want particularized evidence on that, the last three Supreme Court justices have been Princetonians."
"The confirmation process itself is another distinct disincentive to accepting a judicial nomination,"Barbour noted.
"One of the results of the way the confirmation process has broken down … is that our national discourse has taken on a tone that is not only ugly but also is particularly disrespectful to the institution of government,"Fishman said.
Demeo also discussed the lengths to which senators go to block nominees. Demeowas first appointed to be a magistrate judge on the Superior Court of the District of Columbia in 2007. A few years later, Obama nominated Demeo to be an associate judge on the Superior Court in 2009. However, Demeo's nomination came with much opposition from Republican senators for her "leftist activism," as she explained. Her work for the Mexican American Legal Defense and Educational Fund and her support for same-sex marriage among other things drew much opposition. However, she was confirmed by the Senate on a 66-32 vote in 2010.
"In some ways I am the anomaly on the panel, but in some ways I guess it just goes to showhowcontroversial and how far senators now go to block nominees," Demeo said.
Unlike some of his fellow panelists, Obermeier expressed that he does not think that the judicial confirmation process is broken and that because of the high stakes of Supreme Court appointees, the confirmation process should continue to operate as it does currently.
"This is a topic that we need to keep discussing as a country," Eisgruber said to conclude the discussion.
The panel, titled "Is the Judicial Confirmation Process Broken?" took place at9 a.m.in McCosh 50.