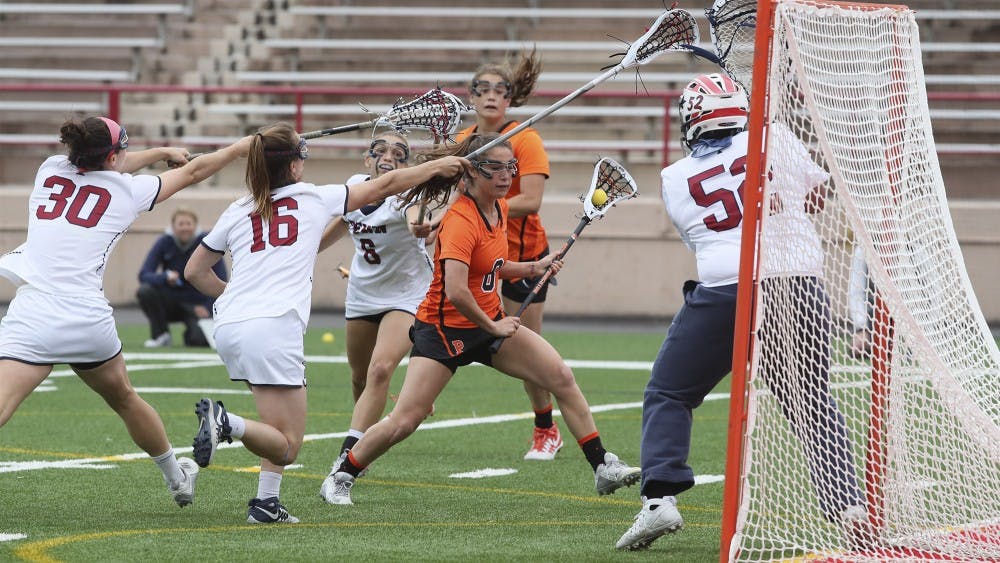 The women's lacrosse team swept through Penn with a record-setting performance in the Ivy League Women's Lacrosse Tournament. No. 6 Princeton managed to find the net 17 times, beating the Quakers by an impressive 17-8 margin. The Tigers will now face Cornell in the Ivy League Championship for an automatic NCAA bid. The Princeton team previously won the title in 2011 and 2015.
The Tigers set a new Ivy League Tournament record with their 17 goals. In addition to team records, the Princeton side also set new individual records. Senior midfielder Olivia Hompe set a tournament record for with here nine-point haul. Hompe notched three goals and six assists in the Princeton victory. Her six assists were also the most in a tournament game.
Hompe will have the opportunity to make history on Sunday as she is one point behind the all-time program points record 270. The record is currently held by Crista Samaras — set in 1999.
Eight Tigers scored in the Princeton effort. Sophomore midfielder Elizabeth George and senior midfielder Anna Doherty led the offensive effort with four goals apiece. The Princeton team also showed strength on the defensive end, holding Penn's top scorer to a single goal. Senior goalie Ellie DeGarmo made 12 saves during the game.
Princeton opened the match against Penn with a 5-1 run. The Quakers would claw their way back into the game with back-to-back goals and cut the lead to 2 by halftime. The Tiger headed back to the locker room with a 6-4 advantage over the Quakers.
However, the Tigers would find their momentum coming out of halftime. Princeton scored seven unanswered goals, which included a natural hat trick from George. While Penn would eventually break the run, the Princeton squad managed to maintain a comfortable seven-goal margin throughout the game.
The Princeton team will now face Ivy rivals Cornell. The two teams last met in the regular season this year when the Tigers edged out Big Red in a double overtime thriller. The Princeton team narrowly beat out Cornell 12-11 after a game winner from junior attack Colby Chanenchuk.
With a NCAA bid on the line, this coming meeting between the Tigers and Big Red promises to be another thriller. The Princeton team will travel to Ithaca on Sunday to face Cornell.