Princeton track and field wins 4x800 at Penn, prepare for Ivy League Championships
| Apr 30, 2017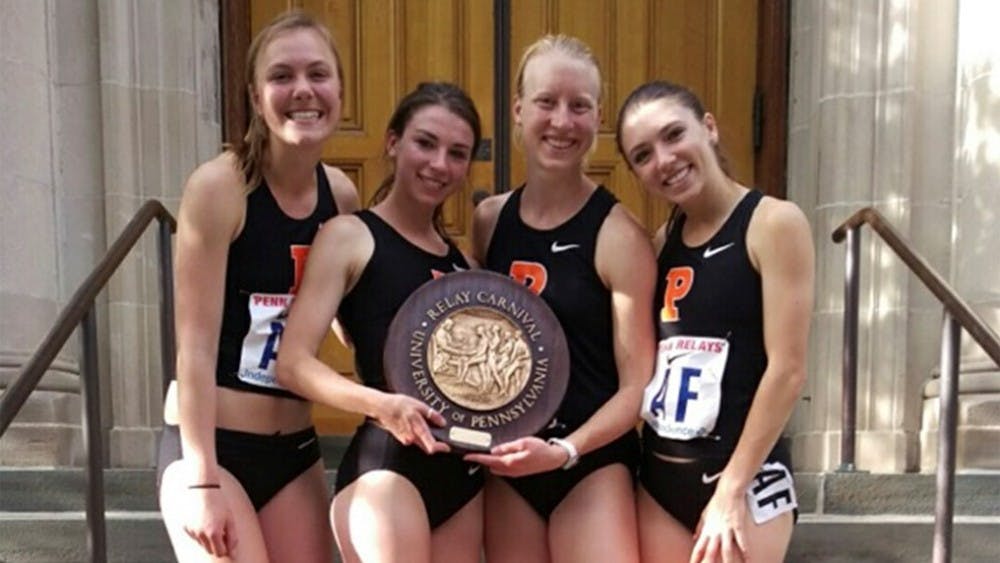 The largest track and field event in the nation occurred this weekend in Philadelphia, and it was an important one for Princeton women's track and field. In the 4x800m relay, the Tigers recorded a time of 8:49.00, winning their race. This time was almost a full four seconds ahead of the rest of the field, with second-place Georgia Tech finishing with a time of 8:53.56.
The first leg of the relay was completed by senior Zoe Sims, who led the team with a time of 2:11.01 before handing off the baton to sophomore middle distance runner Anna Jurew. Jurew crossed the line with a time of 2:11.60 on the second leg before freshman Madeleine Sumner finished her race with a 2:13.19 split. Sophomore Jackie Berardo closed out the winning race with an anchor time of 2:13.21.
While some of the team competed at Penn Relays, others traveled to a meet close by at the campus of The College of New Jersey, in which the Orange and Black competed in two field events, the pole vault and the high jump.
Senior Allison Harris, who went to nationals in her indoor season, won the pole vault with a height of 4.03. She was the only vaulter over 3.80. Harris passed on the first eight heights, which started with a 2.65, before taking her first launch when the bar was at 3.70. She cleared that height on the first attempt, then passed on 3.80 before clearing both 3.90 and 4.03 on her first attempts. She then tried for a height of 4.13, but she was not able to clear it on three chances. Harris' personal best for this season is 4.03.
In the high jump event, freshman Hadley Wilhoite was the runner-up, as she matched the winner with a 1.65 on her final attempt. Wilhoite passed on with heights of 1.40 and 1.45 before she cleared over 1.50, 1.55, and 1.60 on her first three attempts at each. The 1.65 is Wilhoite's collegiate best, and it also matches her personal best. Additionally, freshman Kayla Dobies finished off the event strong with a mark of 1.60.
Although this weekend was a big meet for the Tigers, next weekend will be even bigger, as Princeton will compete at the Ivy League Heptagonal Championships at Yale. The last HEPS title the women's team won was in 2011, while the team has won nine HEPS titles in total championship history.