Class Day speaker Remnick '81 speaks on luck, freedom and how Princeton changed his 'dim, denimed' self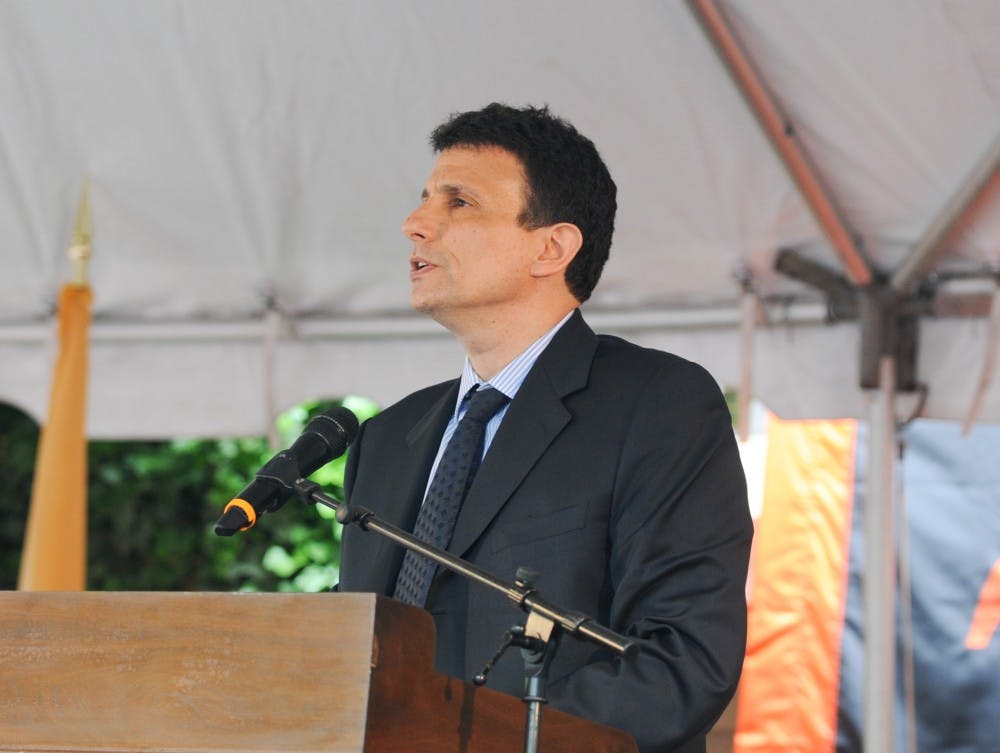 Pulitzer Prize-winning author and editor of The New Yorker David Remnick '81 discussed the responsibilities of freedom and recalled how Princeton changed his life in his Class Day speech Monday morning.
Remnick opened by asking the Class Day committee what they were thinking
when they chose him
over the likes of comedian Louie C.K., filmmaker Lena Dunham and Supreme Court justice Elena Kagan '81.
"The truth is, of course, I don't want to know what led to your impoverished decision, because I'm so immensely grateful for it," Remnick said.
He recalled arriving at Princeton as a freshman in 1976 as an "amorphous teenager … dim, denimed and desperate to learn." Remnick majored in comparative literature — what his father called "fancy English" — though he told the crowd that he received a C-plus and D in Russian 102 and 105, respectively.
Despite his grades, however, Remnick said he was changed by the University, citing the classes he took with professors Robert Hollander and John McPhee '53, and his experience outside the classroom writing for the University Press Club after initially being hosed and founding the Nassau Weekly.
Remnick likened the seniors to the protagonist of the novel "This Side of Paradise" by F. Scott Fitzgerald, Class of 1917, which takes place at Princeton. "You, like [Fitzgerald's protagonist] Amory Blaine, made it here. You studied. You got to the end, earning the pride of your family and friends. There's hard work in that, but there's luck too. Crazy, sublime luck to have had the chance at all," Remnick said, adding that now was not a bad time for the seniors to assess their "early good fortune."
"The so-called 'real world' is, you may have already noticed, an appalling place at times, and the contrast with Princeton may prove injurious," Remnick said, joking that Princeton is like a particularly well-funded assisted living facility, but with a football team and more beer. At Princeton, Remnick said, reading a novel is considered work. "As of this week, this is what is considered leisure," he joked.
The seniors' good fortune, Remnick explained, stretches beyond the Princeton zip code. In urging the seniors not only to assess their luck, but also to consider what they might do with it, Remnick quoted the singer Bob Dylan, who received an honorary doctorate from the University in 1970. "A hero is someone who understands the degree of responsibility that comes with his freedom," Remnick quoted.
Remnick said he had no doubt the seniors would have personal success, yet clarified that "personal success is not the same thing as meeting the demands the responsibilities that freedom asks of you."
Remnick added that freedom is by no means a universal condition, calling it "rare, fragile and provisional." He recalled covering the collapse of the Soviet Union as a foreign correspondent in Moscow, remembering his optimism that democracy had been born. He likened this optimism to similar sentiments felt at demonstrations in Tiananmen Square and, more recently, protests in Egypt.
"What I am saying is that the human capacity to underestimate the resilience of non-freedom and the forces of reaction is vast," Remnick said. He added that in life, no matter how modest or private, everyone would be called to make decisions that would shape the nature of freedom and reminded the class of their "communal responsibility" in living a life of freedom.
"The future of freedom enlists and implicates pretty much everyone," Remnick told the class. "Particularly people of talent, means and mobility. And that includes you."
Remnick said that the seniors were about to graduate and enter a world in which there is no syllabus. It would be easy, he warned, to get caught up in an increasingly global world of technology — a world of prolific Starbucks and iPhones and The Great Gatsby in 3-D — and to "ignore the feeding and exercise of the mind" on anything difficult or enigmatic.
In doing so, Remnick said, "We cheat ourselves out of so much of what makes us much more actively and vividly alive." He likened freedom to a muscle that atrophies when it goes unused.
"You're needed in the larger world — and not merely to shop and take up space. The stakes are huge. The project of building a free society isn't something you can farm out to the experts. In never ends. You must, in some parts, play your part," Remnick noted.
Remnick concluded by acknowledging the parents and grandparents in the crowd, saying that while seniors may not remember everything about graduation, their families would surely remember every single moment. In his speech, he also thanked Tilghman for making Princeton a "more cosmopolitan place."
Tilghman opened the ceremony by talking about her own impending departure from the University. She held up a "YOLO Bro" tank top given to the Class of 2013 at the Pre-Rade last fall.
"When the YOLO part was finally explained to me … I was hit by a lightning bolt," she said. "How long can one person risk living in New Jersey? How many meetings can I sit through discussing conflict-free bananas?" she said, joking.
"Suddenly, I saw the possibility of a light at the end of a tunnel: a life in London where I could be unemployed, finding myself, taking daily yoga classes, maybe even writing a play. [two spaces] You know, a life like the one you're embarking on … except I won't be living in my parents' basement," she said to laughs from the crowd.
Tilghman thanked the seniors for the last four years and told them that the University would forever be "a refuge from the adult world."
"We will be always waiting here … ever ready to welcome you home. So go forth and puncture the Orange Bubble," Tilghman said, before presenting new Class of 2013 alumni class president Stefan Kende with the key to the campus.
To cheers of "Shirley!" from the seniors, Tilghman was presented with a class jacket and certificate as an honorary member of the Class of 2013.
Along with Remnick and Tilghman, 11 other members of the Princeton community were inducted by the Class of 2013 as honorary members. They include Debra Bazarsky, director of the University's LGBT Center; Erhan Cinlar, operations research and financial engineering professor; Rick Curtis '79, director of Outdoor Action; Larry Haber, owner of the Princeton Garden Theater; Helen Joynes, University bus driver;
Josue Lajeunesse
, Whitman College lead janitor; Erin McDermott, deputy director of athletics; Dr. Janet Neglia, University Health Services Medical Services associate director; Anne-Marie Slaughter '80, Wilson School professor and former dean; and Oscar Torres-Reyna, a data services specialist at Firestone Library.
The ceremony also included student speakers chosen by the Class of 2013, including Dan Abramowitz '13 and Catherine Cohen '13.
After the speeches, Dean of Undergraduate Students Kathleeen Deignan presented some members of the Class of 2013 with Class Prizes.
Jake Nebel '13 and Caroline Hanamirian '13 were recognized as winners of the Pyne Prize, the highest University honor given to undergraduate students.
Kitan Akinosho '13 received the Allen Macy Dulles '51 Award, given to the graduating senior who best embodies the University motto of "Princeton in the nation's service and in the service of all nations."
Sarah Chen '13 was given the Frederick Douglass Service Award, which recognizes contributions to understanding of racial minorities.
Chen is a former senior writer for The Daily Princetonian.
Benjamin Barron '13 received the Harold Willis Dodds Achievement Prize, which recognizes a senior who embodies the spirit of the University's 15th president by demonstrating "clear thinking, moral courage, a patient and judicious regard for the opinions of others and a thoroughgoing devotion to the welfare of the University and to the life of the mind."
Current class president Zach Beecher '13 was awarded the W. Sanderson Detwiler 1903 Prize.
USG president Bruce Easop '13 was voted the winner of the Class of 1901 Medal by his classmates, which recognizes the graduating senior who has done the most for his or her class.
Marlene Morgan '13 won the Priscilla Glickman '92 Memorial Prize for imagination and vision in service.
To conclude the ceremony, athletic director Gary Walters '67 acknowledged winners of athletic awards who were first recognized at the Princeton Varsity Club banquet last week.
Swimmer Rory Loughran '13 was given the Class of 1916 Cup. The Art Lane '34 Citizen Athlete Award was given to sprint football player Ben Foulon '13 and swimmer Kathy Qu '13.
The William Winston Roper Trophy, awarded to the top senior male athletes, was shared by cross country and track runner Peter Callahan '13, football player Mike Catapano '13, squash player Todd Harrity, basketball player Ian Hummer, soccer player Mark Linnville, tennis player Matija Pecotic and fencer Jonathan Yergler.
The C. Otto von Kienbusch Award, awarded to the top senior female athletes, was shared by cross country and track runner Greta Feldman '13, soccer player Jen Hoy '13, basketball player Niveen Rasheed '13, fencer Eliza Stone '13, field hockey players Katie Reinprecht '13 and Kathleen Sharkey '13 and open-weight rower Heidi Robbins '13.
Outgoing class president Zach Beecher concluded the ceremony, before seniors and family members adjourned to Alexander Beach for lunch.
Senior writer Sohee Khim contributed reporting.
Correction: Due to a reporting error, an earlier version of this article misstated the team of Mike Catapano '13. He plays football, and was recently drafted by the Kansas City Chiefs. The 'Prince regrets the error.